Where are fire curtains used?
January 18, 2021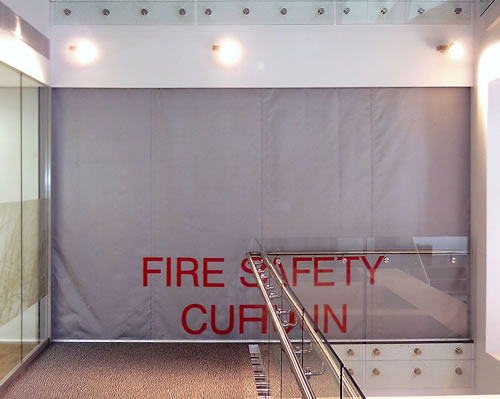 Since fire and smoke curtains have small, light headboxes, they can be installed "hidden" above the ceiling and offer more architectural freedom than traditional solutions, like doors or walls.
Fire curtains are often used in open-plan situations where the building's aesthetics matter the most, like atria, stairwells, and lobbies of all types of buildings, from residential to retail to industrial.
But first, what is a fire curtain?
A Fire curtain is a deployable fire-rated textile that descends from the ceiling to block an opening and stop fire and smoke from spreading. It comprises a housing (headbox), lateral guides, and closing strip (bottom bar).
The fire curtain will deploy to seal off an opening via gravity in response to either a power interruption or a signal from the fire alarm control panel. Once the curtain is uncoiled, it will maintain the integrity of a fire barrier. Fire curtains can be used to replace a non-load-bearing wall.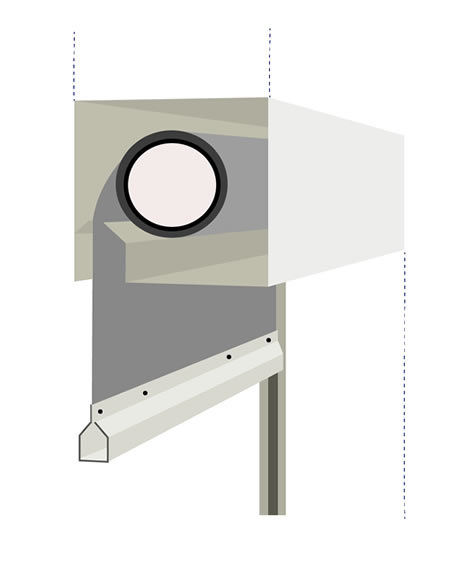 How does a fire curtain work?
The curtain will remain inside the headbox until triggered by a local detector or fire alarm control panel. In the event of a fire, the fire curtain will descend, sealing off an opening. Fire curtains also feature a fail-safe gravity technology; this will allow the curtain to deploy under gravity at a steady speed even if there's no power in the building.
Meet the Fire Protective Curtain FA from Fire Curtain Technologies
The Fire Curtain FA is an automatic, gravity fail-safe barrier with integrated seals. The Fire Protective Curtain FA is UL 10D listed and approved for fire protection. This opening protective curtain complies with NFPA 80 requirements and is available with 1-hour and 3-hour fire ratings
and UL listed low-voltage 48VDC motor.
The Fire Curtain FA is low profile, lightweight, and can be installed almost invisible above the ceiling and remains hidden until it's needed. The FA curtain comes in different sizes and is used in multiple applications, from openings in firewalls to multi-story atriums.
Are you interested in using fire curtains in your next project? The Fire Curtain Technologies team of engineers is ready to help you find the right option. We provide design and code compliance support free of charge.