Fire Curtain Testing
January 26, 2021
How long does a fire curtain last?
The life expectancy of a fire curtain is 15-20 years before any significant degradation. It is recommended to test and inspect all fire-protective curtains once a year. Proper testing and maintenance will keep fire curtains operating effectively and avoid motor failures, side rail obstructions, and other problems.
Testing Requirements for Fire Protective Curtains
"The fire performance evaluation of these assemblies is tested in accordance with ASTM E119, Standard Test Methods for Fire Tests of Building Construction and Materials or ANSI/UL 263, Standard for Fire Tests of Building Construction and Materials, for horizontal access doors." per NFPA 80.
After the fire protective curtain assemblies are installed, they shall be drop-tested twice, according to section 21.7.6. "The first test shall be to check for proper operation and full closure. A second test shall be done to verify that the automatic-closing device has been reset correctly."
"Periodic inspections and testing of fire protective curtain assemblies shall be performed not less than annually" per Section 21.9.1. A qualified person shall perform the testing to check and confirm that the fire curtain assemblies are operating effectively when required. Testing shall include the closing of the fire protective curtain assembly by all means of activation.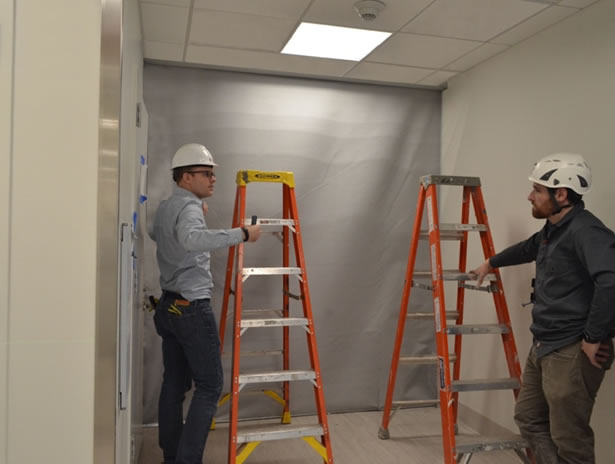 The fire curtain testing should verify the following items:
Check that there are no obstructions that could potentially stop the fire curtain from deploying
Ensure that no parts are missing or broken
Deploy the fire curtain in test mode
Check the closing speed of the curtain assembly
Visual inspection for signs of damage, like holes, or tears in the surfaces of the curtain cloth
Ensure that mounting and assembly bolts are intact and secured
Check that the curtain side guides are level and plumb
Check for proper operation and full closure
Verify that no field modifications have been performed to the fire protective curtain assembly.
The correct installation and maintenance of fire-protective curtains can help you to keep your building safe. For more information about Fire curtain testing and inspections, please contact Fire Curtain Technologies.